An easy way to elevate your outdoor oasis.
As you wander around our open-air showroom, you'll be dazzled by our collection of cast stone fountains. Our knowledgeable, friendly staff is happy to help you find the perfect statement piece for your outdoor space.
These fountains are available in a wide variety of styles and sizes. You can choose the classic style of traditional multi-tier, or explore more unique, modern styles or consider designs inspired by nature. Whatever style you decide is perfect for you, it will certainly be the centerpiece of your yard or garden for years to come.
Aquatic & Garden Decor's cast stone fountains are made in the USA. That means you'll be offering your support for true American craftsmanship. Visit Aquatic & Garden Decor and be captivated by our cast stone fountains!
Video Transcript
[00:00:00] Greetings, everybody. My name is Jim and I'm part of the staff here at Aquatic & Garden Decor. Today, we're going to be going over varying types of water features. When people come here to the store at Aquatic and Garden, they ask about water features, and little do they know how many different types of water features there are.
Cast stone fountain styles
[00:00:18] So, the first type of water feature, again, is called a fountain. A lot of times we'll call it a cast stone fountain. There's all different types that you can choose here at Aquatic & Garden. We have them large enough for circle driveways. Small enough for a small porch. They can even go inside. They can have an Italian look, an Old World look, a modern look. All different kinds of looks that you will be able to find with a cast stone water feature.
Made in the USA
[00:00:49] Another great feature that we pride ourselves in here at Aquatic & Garden Decor is all of our cast stone fountains are manufactured here in the United States by the best manufacturers, frankly, in the world. Overall, we feel that no matter what your desire might be with a cast stone fountain, you're probably going to be finding it here at Aquatic and Garden Decor.
Answers to common questions
[00:01:14] Hi, I'm Kari with Aquatic & Garden Decor. I'm going to talk about some of the common questions that we get about cast stone fountains here at the store.
[00:01:21] Popular question: Do I need a water line for my fountain? No. You do not need a water line for a cast stone fountain. You simply set it up. Stack up the pieces. There's a pump that circulates the water and you fill it with a garden hose. When the water runs low, you refill with a garden hose. Very easy. Just simply plug in the pump and it circulates the water.
[00:01:40] How often should I run my fountain? You can run the fountain every day, but run it for your enjoyment. Running a few hours a day is plenty. People say, "What if I don't run my fountain? Will I get mosquitoes?" No. Running a few hours a day is plenty to eliminate the stagnant water that would encourage mosquitoes to breed in a fountain. Cast stone fountains are very easy. You just need a little level base, sack up the pieces, plug in the pump, recirculate the water.
What Is Cast Stone?
Cast stone is a type of concrete that has been mixed with sand, water, and other additives to create a strong yet pliable material. It is then molded into the desired shape and left to cure. Once it has cured, cast stone is incredibly strong and durable, making it an ideal material for outdoor use.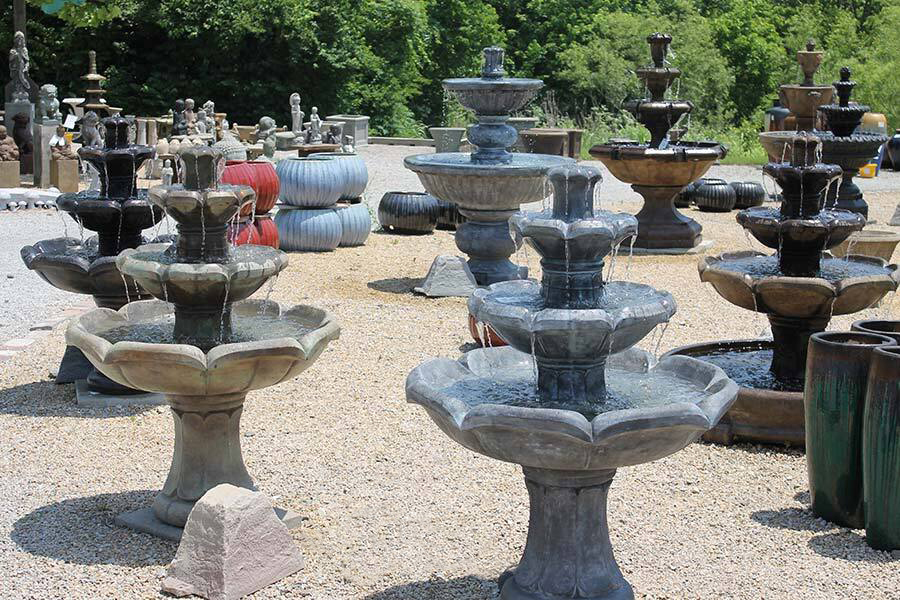 Why Choose a Cast Stone Fountain?
There are many reasons why you might choose a cast stone fountain over another type of fountain. For one, cast stone is an extremely durable material that can withstand even the harshest weather conditions. Whether you live in an area with harsh winters or hot summers, your cast stone fountain will continue to look as good as new for years to come.
Another reason is that they are generally less expensive than other types of fountains made from materials such as metal or marble. If you're looking for a beautiful addition to your home without breaking the bank, a cast stone fountain is definitely the way to go.
And last but not least, cast stone fountains are easy to install and require very little maintenance once they're up and running. Simply top up the water levels as needed and give your fountain a quick rinse with the hose every now and then, and it will continue to look amazing season after season.
Aquatic and Garden Decor is proud to offer a wide selection of cast stone fountains. Made from high-quality materials, our fountains are built to last. Stop by and browse our selection today and find the perfect fountain for your outdoor space.